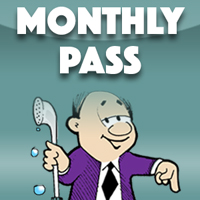 Monthly Car Wash Pass
(Exterior Wash)
Have Unlimited Exterior Car Washes each month for 1 low price!*
(*oversized vehicles subject to additional charge)
Includes: Exterior Car Wash and Towel Dried
$16.99 per month / plus tax
---
---
Monthly Car Wash Pass (exterior wash) $16.99 per month plus tax
How the monthly pass works:
You pay $16.99 each month for UNLIMITED Exterior Washes!
This program is designed to have you rethink when and how often you get your car washed. Snow, rain, bird droppings, dirty windshield, road construction grime and special events, or just to make you feel good! No Problem!
YOUR CAR IS A MAJOR INVESTMENT. Keeping your car clean helps maintain its value. It feels good to drive a clean car! With our Monthly Car Wash Pass program, you get Unlimited Exterior Car Washes for one low monthly price.
For your convenience, Island Car Wash has extended hours and we are open during days when most other car washes are closed. We are here for you!
Frequently asked questions:
Q. How am I billed?
A. Your credit card will automatically be charged $16.99 per month plus tax.

Q. Can I cancel my membership?
A. Yes! At the end of your current monthly billing cycle.

Q. How do we handle "Packages", "Extras" and Oversized Vehicles?
A. Its really easy… only the amount above the Exterior wash price will be charged.
Oversized vehicles are subject to an additional charge. Have your vehicle assessed at the time of membership purchase.

Q. If the price increases for the Monthly Car Wash Pass in the future, what happens to my price?
A. The new price will be posted at the car wash and you will be charged the new price at the end of your current billing cycle. If you do not agree to the new price and wish to terminate your membership, you may do so. Simply notify us within two billing cycles of the price increase. You will then be refunded the difference between the old and new price.
We reserve the right to cancel or modify this program with a 30-day notice posted at the Car Wash.
Text Messaging Terms & Conditions
By signing up, you agree to receive ongoing text message alerts from Island Car Wash. Consent is not required for purchase. Up to 8 messages per month. Message & Data rates may apply. Ts & Cs / Privacy Policy @ www.optspot.com/tnc